Helping Bishop Griselda and others in the Caribbean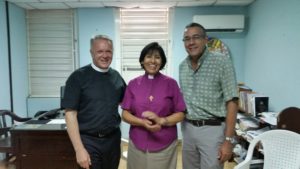 https://www.crowdrise.com/o/en/team/partnering-to-help-rebuild-caribbean-communities?utm_campaign=oc&utm_medium=facebook&utm_source=crowdrise
An increasing number of my friends are wondering what we can do to provide support to communities in the Caribbean region that have been devastated by severe hurricanes this past month. As the media cameras leave and other compelling news stories occupy public attention, many people of goodwill have not forgotten the work of rebuilding lives and community that local residents face every day. The faith community is one of the most reliable and trusted networks we have, particularly as FEMA also moves on and prepares for the next disaster. The private sector, non-profit and religious organizations have to find efficient and transparent ways of working locally, advocating internationally and preparing for the longer term effects of these extreme forms of climate change. There is simply no escaping our present reality.
One example is to hold up the courageous work of episcopal bishop, Griselda Delgado del Carpio, who reported nearly half her churches and the communities they are serving, were damaged in the recent hurricanes. We celebrate her leadership this week in a series of events including an honorary doctorate at Yale yesterday, the Church Club event in New York city on Wednesday evening and an event in Philadelphia on Friday. The bishop will be reporting on the work of rebuilding community and I have promised her our prayers and support for those of us who cannot attend these events but would like to contribute to her work through the St. Paul's Foundation for International Reconciliation.
Bishop Griselda remains the only woman bishop in Latin America and her community is proud to welcome all people regardless of race, ethnicity, class, sexual orientation or gender. The church serves everyone in need and I know our gifts (50% will go to the bishop and 50% will go to the church in Puerto Rico -all is tax deductible). I know the faith community we are supporting welcomes and provides support to everyone in need and our gifts will be well accounted for and leveraged for the common good. You can read more about this work here: https://www.friendsofeccuba.org/
My congregation in Upstate New York is also committed to assisting domestic hurricane relief with a focus on a Baptist church in Beaumont Texas. This is a time to reach out and break out of our silos. We hope to welcome and have an update from its pastor in 2018 when the real and deeper ministry of the people of God to those hurting and in need and I encourage other congregations to plan similar events and post-disaster updates as signs of our solidarity and common humanity. We share a common earth, "our island home". When one part of the body hurts, we all hurt. We trust our friends and companions on the ground to get on with the work, knowing they remain on our thoughts and prayers AND with our much needed financial support.
Rev. Canon Albert Ogle,
Executive Director, St. Paul's Foundation for International Reconciliation
Help Spread the Word!